Pawfect Pets #2
Hello and welcome to my brand new linky, Pawfect Pets.

Last week I was thrilled to have my first two linkers. I wasn't really sure if anyone would get involved, so I couldn't be happier!

The lovely Jenna from Tiny Footsteps introduced us to the other baby of the family, her beautiful Minature Schnauzer, Heidi. Take a look here, and keep an eye out for an extra cute photo of lovely baby Jasmine snuggling with the puppy.

The fabulous Helen from From Mummy To Mum got a new addition to the family, the adorable Jack Russell pup Milo. Head on over to see Milo tackling some sausages, and be prepared to saw 'awwww' at some more snuggling pictures, here.

Thanks very much for linking ladies, can't wait to find out more about Heidi & Milo in the coming weeks.

If you would like to join in this week, here are the rules:


The linky will open every Tuesday at 7am and will remain open until the following Monday at midnight.
You are welcome to link up any posts, past or present, that feature your pets.
The post can be a story, a photo, a pet product review... basically anything pet related!
Try and comment on at least two of the other posts in the link up.
Tweet using the #PawfectPets and I will re-tweet.
Please add my badge to your post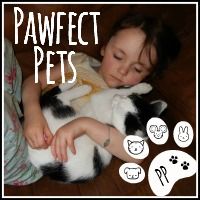 I love reading all of your comments and getting to interact with all my readers so pop a comment in the section below and lets chit chat.