Wicked Wednesday - The MAC Destroyer
Don't be fooled by children and their cute little faces, sometimes they like to wreck stuff! This is an old photo from 2012 when Caitlin got in to my makeup bag and smothered and entire mac eyeshadow on to her face.
If you are tired of looking at perfectly shot photos of perfectly styled families, then head over the lovely Em at
brummymummyof2
for her new linky #WickedWednesday where you can view a mass collection of 'deleted from the family album' photos, proving we are all slightly less than perfect at times!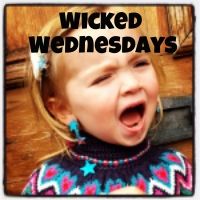 I love reading all of your comments and getting to interact with all my readers so pop a comment in the section below and lets chit chat.